Pathways Consulting Group has assisted in many ServiceNow Express related efforts. Throughout those efforts we have picked up on some tips that we want to share. The information in this article pertains specifically to those of you that plan to convert, or have converted, your ServiceNow Express instance to a ServiceNow Service Management enterprise platform. ServiceNow does provide documentation on this matter, which is referenced below. However, we have collected some knowledge from our experiences that is not contained within the ServiceNow provided documentation which is the focus of this article.
Express Conversion to Enterprise Considerations
ServiceNow provides general areas of consideration and notes for converting to Enterprise. Please see the link below.
https://docs.servicenow.com/bundle/london-servicenow-platform/page/customer-support/concept/c_ExpConversionEntConsiderations.html
Plugin List
ServiceNow has provided documentation for the conversion. Included is a list of plugins that are suggested to be enabled before development begins within the Enterprise instance. There is no cost associated with these plugins and we have successfully done this in the past. We suggest that you activate these plugins as needed, rather than all at once. This means that you must check this list of plugins as you implement new applications and see if any pertain to your new effort. The primary reason for activating these as needed is to test the baseline functionality of the application(s) after the plugin is activated.
https://docs.servicenow.com/bundle/london-servicenow-platform/page/customer-support/concept/c_ExpConvEnterprisePlugins.html
The information below is specific to our experiences in post conversion instances. It should be noted that there are inconsistencies with these issues being present across different instances. Some of these inconsistencies may be explained by the version that your instance is on. As such, your converted instance may not contain these issues but it is suggested by us that you check for their presence.
Inbound Actions Script Field Hidden
After the conversion, the Inbound Action form's Script field was not visible. The UI Policy, "Advanced Option", has a condition that looks at the "advanced" column. If advanced is true, then the script field is visible. However, advanced was not on the form which caused the UI Policy to never return true. You must either modify the UI Policy or add advanced to the form.
Maintain Items Module
Normally, there is a Maintain Items module found within the Service Catalog Application Menu. However, Express utilizes a module called "Catalog Items" which is found within the Service Catalog Application Menu. Both modules bring the user to a list view of the Catalog Items.
Change Management Issues
Across multiple efforts, we have seen the Change Management application inherit a multitude of issues from the conversion. As previously mentioned, some converted instances do not experience the same issues. The items described here are examples of these inconsistencies as we have seen some converted instances result in a perfectly functioning Change Management application. If you are experiencing these issues, it is best to open a HI ticket with ServiceNow and allow them to resolve them. This list should enable you to point out the areas of concern that need to be addressed.
•The Standard Change Properties does not exist:
•No workflows related to Change Management exist
•Some fields do not exist, or they exist but are not active. For example, On hold.
•No flow formatters exist:
•The state control logic is not present. The states will not change.
•No interceptor appears when the Create New Application Module is clicked. It only appears when the Create New UI Action is clicked from the Change Management list view:
Asset Management Issues
The Asset Management Application's form functionality has been unusable in most post conversion instances that we have worked with. The reference, lookup, and form sections do not respond to user interaction. In other words, clicking on any of these has no effect. The plugins below being activated have remedied this issue, however, it was required that ServiceNow activate these through a HI request.
Asset Management
Contract Management
Discovery
SAM Foundation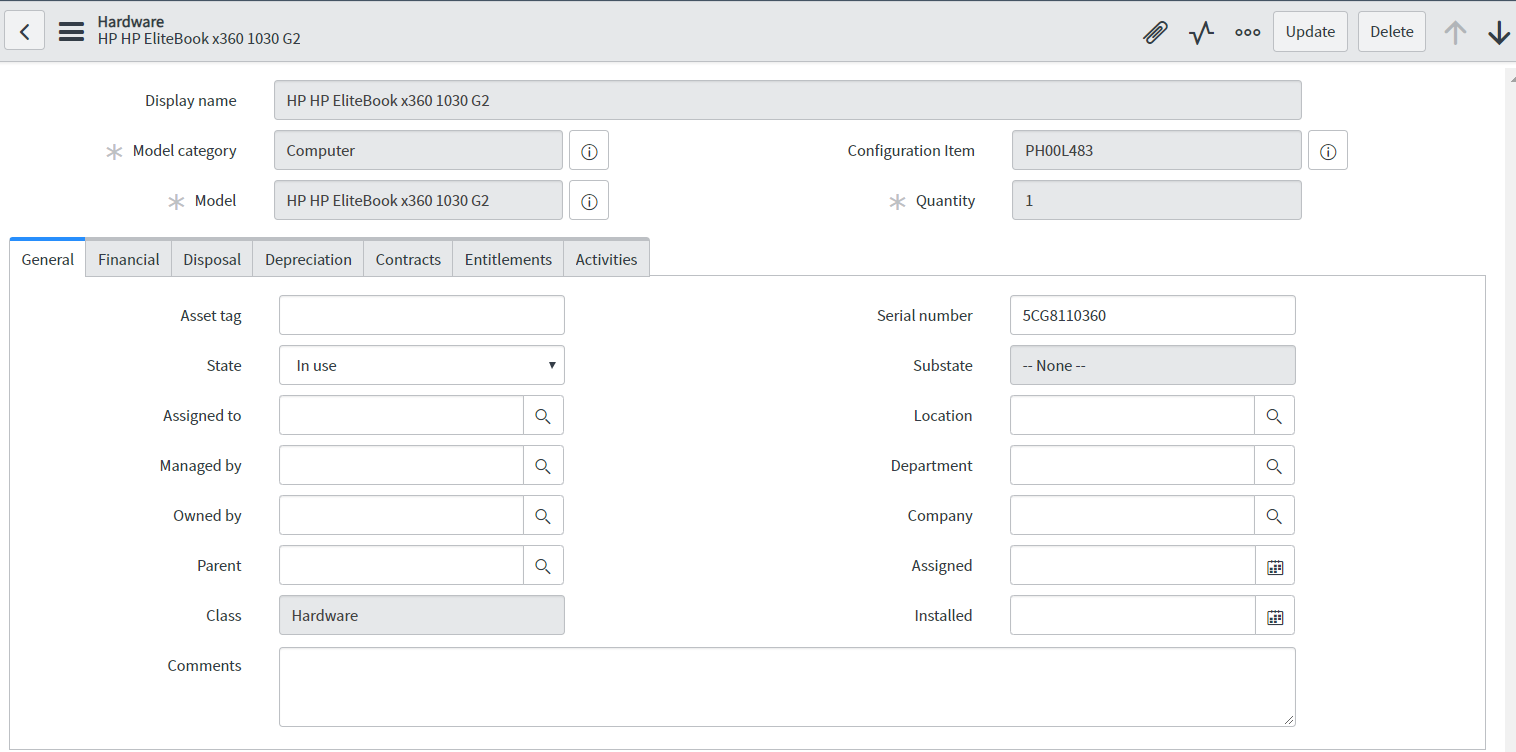 Production and Sub-production Environment Discrepancies
Often times some of the issues outlined in this article only exist in the Production environment. This means that throughout development and testing, there won't appear to be any issues. When the Production deployment is in progress and the update set is previewed, errors will occur as a result of these issues. At that point, you will be required to address these issues. Thus, it is our suggestion to investigate the relevant application in the Production instance long before a deployment is planned. Since many of the steps required to alleviate these problems rely on engagement with ServiceNow via HI, your Production deployment may be significantly delayed at a time when you are ready to go live.
A possible approach to consider in light of this is a clone upward from a sub-production instance. This means requesting a clone through HI from your Development environment over your Production environment in order to proactively remove the gaps that exist in the post-conversion Production instance. You will want to schedule a clone down from Production that occurs right before your upward clone in order to get a sync of your Production data. Be mindful of the backup cycles when scheduling the clone from Production down to your lower environments to ensure you do not lose any Production data. If you have any questions about this please reach out to us for some help, or mention it in a HI ticket with ServiceNow. A HI request will be required to clone upward over a Production instance, so it is suggested that you provide them the context of this clone and allow them to advise you on these steps.
Moving Forward
We continue to engage with ServiceNow platform users and assist in these efforts. As we learn new lessons on Express to Enterprise "gotchas" we will continue to update this article. There are some practices and planning steps that simply cannot be conveyed through the format of a blog article. So, if you have recently converted, or are planning to convert, do not hesitate to reach out for some help. If you have made the jump already and want to share your experiences, let us know your own express upgrade issues in the comments below.